Have you Wrecked your Nails with Nail Polish?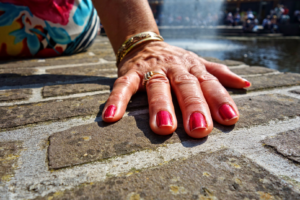 I've been using nail varnish and my nails have suffered. How can I keep my nails in good condition?
Until a few years ago, at Sole to Soul we were using and selling an aromatherapy product to condition nails and cuticles. The nails and skin on my hands used to suffer terribly from being washed many times a day and being dried on paper towels. I used the oil every night and my nails had never been so good. Suddenly we couldn't buy it anymore and it appeared to have been discontinued.
I approached a colleague who had practiced aromatherapy for over 20 years and asked her if she could help. She came up with two different formulae and we enlisted 3 of my patients who had been regular and enthusiastic users of the original product – and me – to test the new oils. All of us had a clear favourite and preferred it to the original. Chryssie, who has a business based in Lancaster called Health Balance, now produces this oil mix for us and for her own clients. The name of the product is Reclaim Your Nails and it is a nail and cuticle conditioner – and it smells delicious. It is a mixture of essential oils including frankincense and lavender in a rich blend of base oils. It comes in a bottle with a squirty top – but don't try to squirt it on your nails – it will go everywhere and you will waste it. One squirt in the palm of your hands is enough for all of your nails.
This video shows you how.
You can buy it from us for £9.99.