How to Prepare your Feet for Orthoses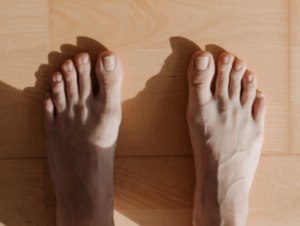 When you are prescribed custom made orthoses, you may be advised to do some exercises to help your body prepare to wear them and make the adjustment period easier.
If your calf muscles are tight these are the two exercises we recommend.
1. STEP EXERCISE
Without shoes
Stand on the bottom step of the stairs
Hold onto the banister rail
Position yourself so that just the ball of your foot is on the step
Have your feet parallel – no pointing the toes out to the side
Slowly lower both your heels until you feel a gentle "pull" in your calf muscles
Don't "bounce" – you'll "ping" muscle fibres and make your leg sore
Hold for a count of 10
Release
Repeat as often as you like without making your calves sore
To make it a stronger exercise, lift one foot off the step and lower the other.
2. WALL EXERCISE
With or without shoes
Stand facing a wall with your feet together and about 30cm from the wall
Place your hands or hand on the wall for support
Move one foot back, keeping the toes pointed forwards
The further back you move this foot, the greater the stretch, so to begin with it is best to keep it under 30cm
Bend the front knee
Keep the back knee straight
Keep your heels on the floor
Gently move your hips forward until you can feel a gentle stretch in the calf of the leg at the back
Don't "bounce" – you'll "ping" muscle fibres and make your leg sore
Hold for a count of 10
Release
Repeat for the other side
Repeat as often as you like without making your calves sore